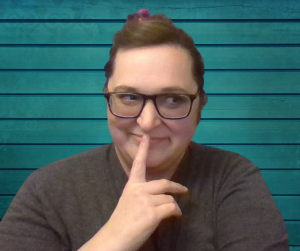 My inner eight-year-old giggles every time I sit down at the keyboard. I have always wanted to be a writer. Everyone who knew me then and knows me now knows I LOVE to WRITE STORIES. In tenth grade, a friend handed me a paperback about how to skip press and self-publish. I read the book until it fell apart. Still, that was the nineties, and self-publishing cost big bucks. In my twenties, I wrote horrible poetry and photocopied it into a pamphlet. Then, using all my courage, I left it at trendy coffee shops hoping to be discovered.
Flash forward, I found mentors and tutorials on YouTube. After devouring many of them, I dared myself to publish a tiny book. When that didn't kill me, I jumped in head first and loved it!
My first mystery unraveled during my first attempt at NaNoWriMo. I published it almost a year later. Now, I'm an award-winning mystery author. (Cue wild hooting from my younger self) Knowing my work touches readers I've never met in real life tickles my heart, and supporting my family while crafting stories is truly a dream come true.
Currently, I'm creating small-town Christian suspense starring homeschool moms and a paranormal cozy mystery series with a dark streak. All my stories are clean, free of swearing and steam, but full of plot twists as dark as my coffee. I hope they find the people who need them. Those who crave mystery and adventure. Readers who, like me, find characters they love and turn them into the family. More than anything, I want to create a safe place to play in my stories. A place that leaves you encouraged, uplifted, and ready for the next mystery. Often this is women in their 30s and up, but my Paranormal Penny Mysteries have a very loyal teen following. Penny rocks!
When I'm not writing, this homeschool mama hangs out with her family or teaches mystery classes to teens. Unless I'm in my decompressing stage of creating. Then I listen to audiobooks and play Minecraft with my kids.